Welcome to the new What's Cooking Thursday! A place for you to link up whatever it is you've been cooking at your house! Not a blogger? Leave your recipe in the comment section. Look for a featured recipe next week. Feel free to link up as many recipes as you'd like, all I ask is that you link back to What's Cooking Thursday!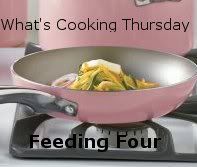 Every Sunday night is pizza night in my house. Lately, we've been making mini pizzas, little pizzas for each of us. The reason I prefer mini pizzas over one big pizza is because one - the kids each get their own pizza to make. Usually, they help me make the big pizza and argue over who gets to spread the sauce, who gets to add the cheese, etc. With mini pizzas, they each get to do everything! Also with mini pizzas, we can customize each pizza. Hubby likes peppers, ham, and pepperoni on his. The boys just like cheese and pepperoni. This time, I decided to go a different route and make a BBQ Pork Pizza. (It's so simple - spread BBQ sauce on the crust, add some pork BBQ and sprinkle with cheese)
The pizza crust we always use is as follows:
2 1/2 cups flour (I usually use 1 cup white whole wheat, 1 1/2 cups white)
1 tablespoon olive oil
2 teaspoons honey
2 teaspoons yeast
1 cup warm water
Combine water, honey and yeast in large bowl. Let set 10 minutes or until mixture is bubbly. Add flour and olive oil. Knead 10 minutes. Let rest 45 minutes to an hour*. Preheat oven to 425 degrees. Roll dough out to desired size. Add desired toppings, bake for 20 minutes or until cheese is bubbly.
*I have let rise longer and there is no issues. I have also allowed NO time for rising, and it turns out fine.