Welcome to What's Cooking Thursday! A place for you to link up whatever it is you've been cooking at your house! Not a blogger? Leave your recipe in the comment section. Look for a featured recipe next week. Feel free to link up as many recipes as you'd like, all I ask is that you link back to What's Cooking Thursday!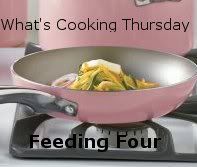 We have had a can of Pillsbury Biscuits in my fridge for forever. I got them for better than free. We don't normally use them, so I wasn't sure what to do with them. I got in my head an idea for pizza biscuits. Anything with the name pizza in it, my boys are down for.
You'll need :
1 can biscuits
pizza sauce
shredded cheese
pizza toppings - peppers, pepperoni, etc
Grease muffin pan. Roll bisucits flat, like mini pizzas. Place in muffin cup. Add sauce, cheese and toppings. Bake at 400 degrees for 10-15 minutes or until biscuits are golden brown.
This week's featured recipes are:
And....blogger isn't letting me upload any more photos (anyone else have this issue???!) so you'll have to visit these blogs to see the amazing pictures. :)
What have you been cooking this week?