Welcome to What's Cooking Thursday! A place for you to link up whatever it is you've been cooking at your house! Not a blogger? Leave your recipe in the comment section. Look for a featured recipe next week. Feel free to link up as many recipes as you'd like, all I ask is that you link back to What's Cooking Thursday!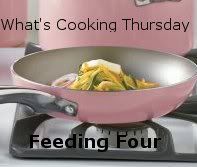 No recipe from me this week guys, I apologize. It's been an
insane
week around here - C has 2 ear infections, I have 2 ear infections and another painful infection. Parker had to go to the vet, he has a nasty cut on his chest. My meds are making me shaky and exhausted, so I haven't been cooking too much. I'm so glad for all the leftovers in the fridge! So link up your recipes so I have something to cook when I feel better!!
This week, the featured recipes are
(I can't upload this picture... visit her blog to see it!)
(I'm working on getting the thumbnails back... bear with me)