Welcome to What's Cooking Thursday! A place for you to link up whatever it is you've been cooking at your house! Not a blogger? Leave your recipe in the comment section. Look for a featured recipe next week. Feel free to link up as many recipes as you'd like, all I ask is that you link back to What's Cooking Thursday!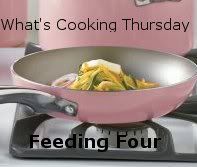 Creamy Sausage Alfredo
You'll need:
8oz. pasta - I used penne
1 cup ground sausage
1 cup chicken stock
1 cup cup low fat evaporated milk
1/4 cup water
5 tablespoons all purpose flour (less for a thinner sauce)
1/2 cup shredded carrots (optional)
Cook the pasta according to package directions; drain well. Mix together the chicken stock, evaporated milk, water, and flour; set aside. Brown sausage in a large skillet. Add the sauce mixture to the pan and simmer until just thickened, about 3-5 minutes, stirring constantly. Add the carrots (if using) and stir to combine. Pour sauce over the pasta and serve!
This weeks featured recipes are:
This post is linked to:
Now it's your turn! What have you been cooking this week?