Welcome to What's Cooking Thursday! A place for you to link up whatever it is you've been cooking at your house! Not a blogger? Leave your recipe in the comment section. Look for a featured recipe next week. Feel free to link up as many recipes as you'd like, all I ask is that you link back to What's Cooking Thursday!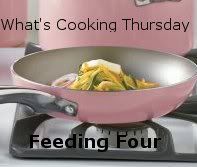 Lately, I have been craving nachos. I'm not sure why because I don't think I've ever eaten them. But I didn't want to go to a restaurant to get them so I made my own! It took about 30 seconds and they were amazing! The whole plate disappeared in about 5 minutes. I wasn't the only one who enjoyed them. :)
You'll need :
tortilla chips
taco meat
shredded cheese
sour cream, salsa, lettuce, peppers - optional
Spread chips and cheese on a microwaveable plate. Microwave 15 seconds or until cheese is melted. In a separate microwavable bowl, warm taco meat. Spread over chips and cheese. Add more cheese if desired. Microwave 15 seconds more or until cheese is melted. Top with optional toppings and serve.
This week's featured recipes are:
What have you been cooking this week?