Welcome to What's Cooking Thursday! A place for you to link up whatever it is you've been cooking at your house! Not a blogger? Leave your recipe in the comment section. Look for a featured recipe next week. Feel free to link up as many recipes as you'd like, all I ask is that you link back to What's Cooking Thursday!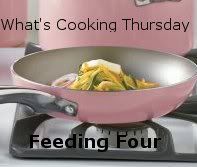 Steak Stirfry
1 beef bouillon cube
1 cup boiling water
2 tbsp flour
1/3 cup soy sauce
1 pound steak, diced
3/4 tsp garlic (I like garlic, if you don't like garlic, use 1/2 tsp)
1 tsp ground ginger
1/4 tsp pepper
2 tbsp olive oil, divided
Veggies - I used green bell pepper, yellow peppers, orange peppers, mushrooms and carrots this time
Dissolve bouillon in the water. Combine the flour and the soy sauce until smooth; add to bouillon. Set aside. Mix beef, garlic, ginger and pepper. In a large skillet over medium-high heat, stir-fry beef in 1 tablespoon oil until cooked. Remove from skillet and keep warm. Heat the rest of the oil, stir-fry veggies until crisp-tender. Stir soy sauce mixture into the skillet; bring to a boil. Cook for 2 minutes or until sauce thickens. Return meat to pan and heat through. Serve over rice.
This post is linked to
Full Plate Thursday
This week's featured recipes are: