Welcome to What's Cooking Thursday! A place for you to link up whatever it is you've been cooking at your house! Not a blogger? Leave your recipe in the comment section. Look for a featured recipe next week. Feel free to link up as many recipes as you'd like, all I ask is that you link back to What's Cooking Thursday!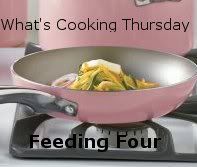 Every time I add Meatball Subs to our menu plan, I get a big response. I think these subs are one of the things that not many people think to remake at home. Personally, I have never had a meatball subs from a store. I didn't even try one until 2 years ago. Hubby has loved them for years. I always made them for him and had something else myself. Now, all four of us are meatball sub lovers. We do still "fight" however, about where to get the better sub. Hubby and I hands down agree - homemade is best. C is the holdout. He loves Subways meatball subs. He'll come around....
(it got a little overdone under the broiler)
You'll need:
1/4 onion - diced
1 egg
1 lb hamburger
1 cup ketchup
1 slice of bread - turned into bread crumbs by a food processor
1 jar pizza sauce
sub rolls
sliced cheese
Combine all ingredients in a medium bowl. Shape into meatballs and bake at 350 degrees for 50-60 minutes. When meatballs are cooked, place them in a medium saucepan. Stir in pizza sauce. Let simmer at least 30 minutes. Place sub rolls under a broiler until toasted. Spoon meatballs onto roll, add cheese and sauce if desired.
This week's featured recipes are:
Now it's your turn. What have you been cooking this week?