Welcome to What's Cooking Thursday! A place for you to link up whatever it is you've been cooking at your house! Not a blogger? Leave your recipe in the comment section. Look for a featured recipe next week. Feel free to link up as many recipes as you'd like, all I ask is that you link back to What's Cooking Thursday!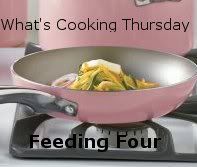 I had a different recipe planned for What's Cooking Thursday tonight. But I was messing around on facebook and found this
recipe
. Off we went to the kitchen...
You'll need:
2 1/2 cups flour
1 tsp baking soda
1 tsp salt
1 cup butter
3/4 cup sugar
3/4 cup brown sugar
1 tsp vanilla
2 eggs
1 to 2 cups chocolate chips
Reese's cups - 1 for each cookie
Mix together the flour, baking soda and salt. Set aside. Beat together the butter and the sugars. Add vanilla. Beat in eggs one at a time. Add the flour mixture gradually. Fold in the chocolate chips. Form cookies as you normally would. Take a Reese's cup and place it on top of one cookie - much like you do in
peanut butter kiss cookies
. Then take another cookie and place on top. Make sure to press the cookie dough around the edges of the Reese's cup so you don't see it. You don't want all the chocolate melting out all over the place. Place on a cookie sheet and bake at 350 for 11 to 13 minutes or until golden brown. These cookies will be HUGE so I would recommend only 6 cookies on a [large] cookie sheet.
To give you an idea of how big these cookies are, here are some in comparison to "regular" chocolate chip cookies.
This week's featured recipes are:
Now it's your turn!
What have you been cooking this week?