Welcome to What's Cooking Thursday! A place for you to link up whatever it is you've been cooking at your house! Not a blogger? Leave your recipe in the comment section. Look for a featured recipe next week. Feel free to link up as many recipes as you'd like, all I ask is that you link back to What's Cooking Thursday!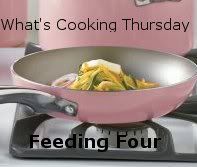 Banana Bread
You'll need:
1/2 cup butter, softened
1/2 cup sugar
1 tsp. vanilla
2 eggs
1 1/2 cup flour
1 tsp. baking soda
1 tsp. salt
3 mashed bananas
1/2 cup sour cream
Preheat oven to 350 degree. Grease a loaf pan and sprinkle with sugar. Beat butter and sugar until creamy. Add the eggs and vanilla and beat again. Stir in the baking soda and salt. Slowly add the flour. Stir in the bananas and sour cream by hand. Pour into prepared pan. Bake for 1 hour and 5 minutes. Cool, slice and slather with butter.
This week's featured recipes are:
Chicken Florentine w/ Penne Pasta
Cake Batter Pancakes
Now it's your turn,
what have you been cooking this week?