Welcome to What's Cooking Thursday! A place for you to link up whatever it is you've been cooking at your house! Not a blogger? Leave your recipe in the comment section. Look for a featured recipe next week. Feel free to link up as many recipes as you'd like, all I ask is that you link back to What's Cooking Thursday!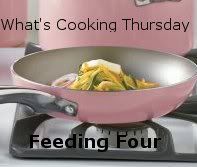 Holy Moly. Have you tried the new Kraft Cooking Creme? We did the other night. Dinner was
amazing
. A ate it up. He ate it for dinner the next day and lunch the day after that. (So did I.) And it was a breeze to prepare!
I adapted this recipe from the Santa Fe Blend Cooking Creme package.
You'll need:
1 1/2 cups cooked & shredded chicken
1 can diced tomatoes, drained
1 tub (10 oz.) PHILADELPHIA Santa Fe Blend Cooking Creme
1 cup Shredded Cheese
10 flour tortillas
Grease 13x9 inch baking dish. Combine chicken, tomatoes, 3/4 cup cooking creme and shredded cheese in large skillet. Heat through. Spoon 1/4 cup chicken mixture down center of each tortilla; roll up. Place, seam-sides down, in baking dish spread remaining cooking creme on top. Cover with foil and bake at 350 for 25 minutes. Serve with sour cream.
This week's featured recipes are:
Now it's your turn!
What have you been cooking this week?