Welcome to What's Cooking Thursday! A place for you to link up whatever it is you've been cooking at your house! Not a blogger? Leave your recipe in the comment section. Look for a featured recipe next week. Feel free to link up as many recipes as you'd like, all I ask is that you link back to What's Cooking Thursday!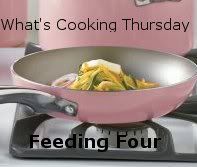 My boys have been on a chocolate milk kick latley. We ran out today and I wasn't running to the store just for chocolate syrup. So we improvised.
1 1/3 cups water
2 1/4 cups sugar
1 1/3 cup cocoa powder
1 1/2 teaspoons vanilla
Bring water to a boil. Meanwhile, combine sugar and cocoa powder. Reduce heat to medium. Slowly add the sugar mixture to the boiling water. Stir roughly 10 minutes or until thickened slightly. Remove from heat and stir in vanilla. Store in refridgerator.
This week's featured recipes are:
Now it's your turn, what have you been cooking this week?