Welcome to What's Cooking Thursday! A place for you to link up whatever it is you've been cooking at your house! Not a blogger? Leave your recipe in the comment section. Look for a featured recipe next week. Feel free to link up as many recipes as you'd like, all I ask is that you link back to What's Cooking Thursday!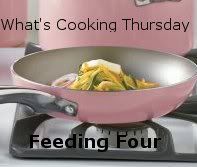 We had kabobs the other weekend at a friends house and they were amazing. I had to recreate them at home. They turned out even better here than they were at our friends. Even if they were a little crispy :)
You'll need:
1 lb boneless skinless chicken breasts
1 pineapple
1/2 red onion
1/2 bottle Lawry's Hawaiian marinade
Cut chicken, pineapple and onion into bite sized pieces. Place in a large bowl and pour marinade over top. Let sit at least 8 hours, ideally overnight. When done marinating, Thread chicken, pineapple, and onion alternately on skewers. Grill 8 to 10 minutes or until chicken is cooked through.
This week's featured recipes are:
Now it's your turn. What have you been cooking this week?