Welcome to What's Cooking Thursday! A place for you to link up whatever it is you've been cooking at your house! Not a blogger? Leave your recipe in the comment section. Look for a featured recipe next week. Feel free to link up as many recipes as you'd like, all I ask is that you link back to What's Cooking Thursday!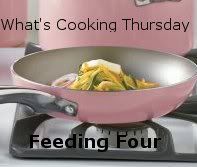 The other week after we had our chicken ring, I had a good bit of the chicken mixture leftover. I also had some pie crust in the back of the fridge that needed to be used up. (Don't ask where the pie crust came from because I seriously have no idea.) There was also some of the philly cooking creme just begging to be used. Throw the three together and you have an amazing chicken pot pie.
You'll need:
1-2 cups shredded/diced cooked chicken
1/2 bag mixed veggies (thawed if they were frozen)
1 diced and cooked potato
1 can cream of chicken soup (I used a half can)
1 philly cooking creme - garlic flavor
2 pie crusts
Roll pie crust onto the bottom of a 9 inch pie plate. Combine chicken, veggies, soup and cooking creme. Spoon chicken mixture into crust-lined pan. Top with second crust. Seal the edges. Cut a few slits into the top pie crust. Bake at 425 for 35 minutes. Enjoy!
This week's featured recipes are:
Now it's your turn. What have you been cooking this week?