Welcome to What's Cooking Thursday! A place for you to link up whatever it is you've been cooking at your house! Not a blogger? Leave your recipe in the comment section. Look for a featured recipe next week. Feel free to link up as many recipes as you'd like, all I ask is that you link back to What's Cooking Thursday!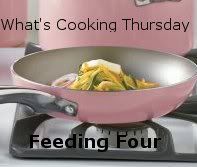 One thing I have stopped buying is croutons. We didn't care much at first, but lately, C and hubby have been asking for them. I have a hard time spending money on something I could make better at home. Especially something that I know will be healthier for us if I made it at home. This past week, I had some bread going stale and we were having salad so I figured I'd use up the bread and make croutons. It was so easy and they tasted so good! I really don't have much of a recipe, it's more like a bunch of ingredients thrown together.
You'll need:
bread cut into crouton sized chunks
olive oil
Italian seasoning
garlic
Combine olive oil and spices in a small bowl. Toss the bread in the olive oil until coated. Bake in a 400 degree oven for 5 minutes. Flip the croutons, bake for 5 minutes. You'll need to keep a close eye on them so they don't burn. If your bread chunks are larger, you'll want to bake a few more minutes. You want them nice and crisp. Serve over a green salad, or eat by themselves.
This week's featured recipes are:
Now it's your turn. What have you been cooking this week?