Welcome to What's Cooking Thursday! A place for you to link up whatever it is you've been cooking at your house! Not a blogger? Leave your recipe in the comment section. Look for a featured recipe next week. Feel free to link up as many recipes as you'd like, all I ask is that you link back to What's Cooking Thursday!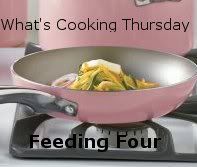 As promised, I finally have a recipe to share! :) One of the things hubby didn't like about homemade bread was the crust was always too hard for him. This bread doesn't have a hard crust, but it is really good.
French Bread - Joy In My Kitchen
1 cup plus 1 tablespoon warm water
2 tsp. sugar
2 tsp. active dry yeast
3 cups flour
1 tsp. salt
2 tsp. butter
Combine water, sugar and yeast in a large bowl. Let sit until it becomes bubbly and doubles in size, about 10 minutes. Add flour, salt and butter. Knead (I used my kitchen aid) for 8 minutes. Let rise 45 minutes, shape into loaf, let rise 45 minutes more. Bake at 350 for 20 minutes.
What have you been cooking this week?