Welcome to What's Cooking Thursday! A place for you to link up whatever it is you've been cooking at your house! Not a blogger? Leave your recipe in the comment section. Look for a featured recipe next week. Feel free to link up as many recipes as you'd like, all I ask is that you link back to What's Cooking Thursday!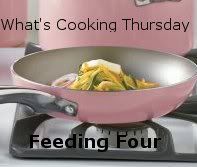 I have been wanting to try
this recipe
for weeks. I had to wait until the timing was right (aka when hubby would be willing to eat it) and this week was perfect. I kind of swayed from the recipe a little bit and the end result tasted just like the dish I ordered at Olive Garden.
(Okay, I just realized I added 2 CUPS of milk when the original recipe called for 2 TBSPs. Oops.)
1 pkg fettucine
3 Tbsp olive oil ,divided
8 slices bacon, cooked & diced
1/2 onion, Chopped
1/2 Tbsp garlic powder
1 tub Kraft Original Cooking Creme
½ cups grated parmesan cheese
1/2 cup milk
1/4 cup egg substitute
Directions:
Cook fettucine according to package directions. Drain. Toss with 1 Tbsp of olive oil, and set aside.
Add 2 Tbsp olive oil to a large skillet and heat over medium heat. Add chopped onion, and cook until onion is soft. Add garlic, and cook 1 minute. Add bacon, cooking creme and cooked linguine to pan. Toss to coat and heat through.
Mix the cheese, milk and egg substitute together in a small bowl. Stir into pasta, and take the pan off the heat. Toss for 2 minutes and serve.
This week's featured recipes are:
Reese's Cup Brownies
Now it's your turn, what have you been cooking this week?