Welcome to What's Cooking Thursday! A place for you to link up whatever it is you've been cooking at your house! Not a blogger? Leave your recipe in the comment section. Look for a featured recipe next week. Feel free to link up as many recipes as you'd like, all I ask is that you link back to What's Cooking Thursday!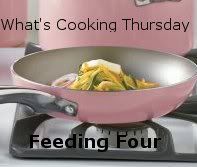 Mom stayed at our house this week and she was craving some chocolate. We ran to the store for a few things and she saw peanut butter no bake cookies. They were $5 for 12 of them! I talked her into making our own instead.
2 cups sugar
4 tablespoons cocoa
1/2 stick butter
1/2 cup milk
1 cup peanut butter
1 tablespoon vanilla
3 1/2 cups oatmeal
In a medium saucepan, combine the sugar, cocoa, butter and milk. Boil for 1 minute then add the peanut butter, vanilla and oatmeal. Drop by the tablespoonful onto waxed paper and let cool.
What have you been cooking this week?