Welcome to What's Cooking Thursday! A place for you to link up whatever it is you've been cooking at your house! Not a blogger? Leave your recipe in the comment section. Look for a featured recipe next week. Feel free to link up as many recipes as you'd like, all I ask is that you link back to What's Cooking Thursday!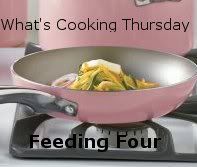 I made some cupcakes this weekend for my momma's birthday and thought I'd share the icing recipe with you. since it is my favorite, and the only icing I'll eat. :)
1/4 cup butter, softened
1 1/2 cups powdered sugar
1/4 cup peanut butter
1 tablespoon and 2 teaspoons milk
1 teaspoon vanilla extract
Combine butter and 1 cup powdered sugar in a small bowl. Beat until creamy. Add remaining powdered sugar, peanut butter, milk and vanilla. Beat until fluffy. Add more milk if needed for smooth consistency.
This is good on cupcakes OR throw it in the fridge and eat it with a spoon - it tastes just like peanut butter fudge. :)
What have you been cooking this week?