Welcome to What's Cooking Thursday! A place for you to link up whatever it is you've been cooking at your house! Not a blogger? Leave your recipe in the comment section. Look for a featured recipe next week. Feel free to link up as many recipes as you'd like, all I ask is that you link back to What's Cooking Thursday!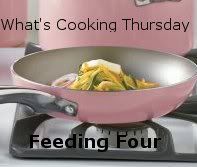 C's birthday was this weekend. My sister in law made tie dye cup cakes and they were awesome! They looked cool and tasted great!
You'll need:
1 box white cake mix (and the fixings)
food coloring
icing
Fix cake mix according to box directions. Take one cup of cake mix and separate into four different bowls. (You should have one cup of mix in each of the four bowls) Add 1 teaspoon of food coloring into each bowl. (Each bowl should hold a different color) Fill cupcake liners with different color mix until you're about halfway up the liner. Bake as directed and ice. Enjoy!