Welcome to What's Cooking Thursday! A place for you to link up whatever it is you've been cooking at your house! Not a blogger? Leave your recipe in the comment section. Look for a featured recipe next week. Feel free to link up as many recipes as you'd like, all I ask is that you link back to What's Cooking Thursday!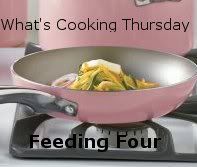 1 cup warm water
1 tablespoons honey
1 tablespoons active dry yeast
5-6 cups flour
1/2 teaspoons salt
2 tablespoons olive oil
6 oz of beer
Combine yeast, water and honey in bowl. Let rest 10 minutes or until doubled in size. Add 2 cups of flour and salt to yeast mixture. Stir. Add the beer and olive oil. Mix. Add 1/2 to 1 cup of flour at a time until dough is no longer sticky. Knead for 8ish minutes. Let rise about an hour or until doubled.
This makes 2 large pizzas.
Top and bake at 450 degrees for 20 minutes.
Hawaiian Pizza Rice