Welcome to What's Cooking Thursday! A place for you to link up whatever it is you've been cooking at your house! Not a blogger? Leave your recipe in the comment section. Look for a featured recipe next week. Feel free to link up as many recipes as you'd like, all I ask is that you link back to What's Cooking Thursday!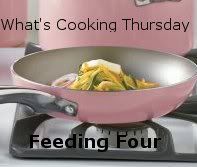 Last night, C said something about monkey bread that made us all want some monkey bread. So A and I whipped some up for breakfast. It was so good, we ate it for breakfast this morning and snack this afternoon. It's now gone and they're still asking for more.
Monkey Bread
2 1/2 teaspoons active dry yeast
3 cups flour (I used 2 cups white, 1 cup wheat)
1 tablespoon ground cinnamon
1 teaspoon salt
1/4 cup white sugar
2 tablespoons butter, softened
1 cup water
1 cup butter
1 cup packed brown sugar
Put yeast, flour, cinnamon, salt, white sugar, 2 tablespoons butter and water into your bread machine in the order that is recommended by the manufacturor. Make sure that no liquid comes in contact with the yeast. Select dough cycle...
Roll out your dough and cut into 1 inch sized pieces.
Melt butter in small bowl. Add brown sugar. Coat dough pieces in butter mixture and layer loosely in bread pan. If you have remaining mixture, pour it over the dough.
Bake at 350 degrees for 30-35 minutes or until golden brown. Remove from oven, place a plate face down in top of the pan and turn over until bread slides out onto plate. Serve warm and enjoy.
What have you been cooking this week?