Welcome to What's Cooking Thursday! A place for you to link up whatever it is you've been cooking at your house! Not a blogger? Leave your recipe in the comment section. Look for a featured recipe next week. Feel free to link up as many recipes as you'd like, all I ask is that you link back to What's Cooking Thursday!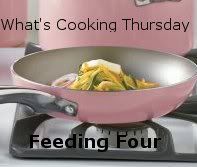 This week, I'm sharing a buttermilk bread recipe. It was SO good, we ate the whole loaf. :)
1-1/4 cups buttermilk
1-1/2 tablespoons butter
2 tablespoons sugar
1 teaspoon salt
2 cups flour
1 1/3 cup whole wheat flour
2 teaspoons yeast
In bread machine pan, place all ingredients in order given. Bake according to bread machine directions. OR mix all ingredients in a stand mixer. Let rise 1 1/2 hours. Bake at 425 degrees for 35 minutes or until golden brown.