Welcome to What's Cooking Thursday! A place for you to link up whatever it is you've been cooking at your house! Not a blogger? Leave your recipe in the comment section. Look for a featured recipe next week. Feel free to link up as many recipes as you'd like, all I ask is that you link back to What's Cooking Thursday!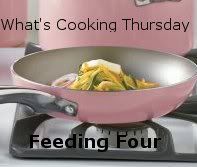 So, I lost track of my days this week (which is why this is being posted Thursday night and not Wednesday night). All you get this week is this awesome no rise roll recipe. ;) Check back next week for a yummy chicken dinner!
2 ½ C warm water
6 Tbsp honey
3 Tbsp yeast
2 Tbsp oil
6 C flour
2 tsp salt
1 tsp baking powder
Mix together water, yeast, sugar and oil. Let sit for 5-10 minutes or until mixture becomes bubbly. Add flour, salt and baking powder. Mix well. Shape into rolls. Bake at 400 degrees for 10-15 minutes.
Seasoned Pork Chops with Apples