Welcome to What's Cooking Thursday! A place for you to link up whatever it is you've been cooking at your house! Not a blogger? Leave your recipe in the comment section. Look for a featured recipe next week. Feel free to link up as many recipes as you'd like, all I ask is that you link back to What's Cooking Thursday!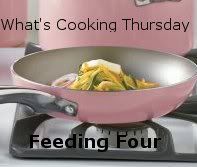 1 cup brown sugar, divided
1/4 cup soy sauce plus 2 tablespoons
1 teaspoon crushed ginger
4 cloves of garlic, minced
1/8 teaspoon red pepper
1 lb chicken, breast
1/4 cup tomato paste
Combine 1/4 cup sugar, 2 tablespoon soy sauce, ginger, garlic, and red pepper. Place chicken in a slow cooker and pour sauce overtop.Cook on low for 6-8 hours.
*optional* When done cooking, place chicken in a broiler proof dish.Combine remaining brown sugar, tomato paste, and soy sauce. Pour over chicken and cook under the broiler for 5 minutes or until chicken is slightly crisp. {{I'm afraid of the boiler, so I only did this with half our chicken, and I didn't leave it in long enough to notice a difference}}