Welcome to What's Cooking Thursday! A place for you to link up whatever it is you've been cooking at your house! Not a blogger? Leave your recipe in the comment section. Look for a featured recipe next week. Feel free to link up as many recipes as you'd like, all I ask is that you link back to What's Cooking Thursday!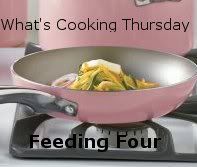 Cheeseburger Flatbread Melts
1/2 lb lean ground beef
1/4 cup water
1/2 tbsp vinegar (I used red wine vinegar)
1/4 cup minced onion
1/4 cup ketchup
1 tbsp mustard
1 tsp garlic powder
2 tablespoons vgetable oil
pizza dough
shredded cheddar cheese
Brown and drain ground beef. Add water, vinegar, onion, ketchup, mustard and garlic. Mix and simmer over low heat. Heat oil over medium heat in a large, skillet. Divide the pizza dough into equal portions and roll into a round, tortilla-like shape. Fry the dough for one minute on each side or until golden brown and bubbly. Place on a paper towel to drain. Top with beef mixture and shredded cheese.
**These are KID APPROVED! Both of my boys ate them up, C added ketchup and mustard to his, A added sour cream. These were really good and I'm thrilled my whole family agreed on them. :)