Welcome to What's Cooking Thursday! A place for you to link up whatever it is you've been cooking at your house! Not a blogger? Leave your recipe in the comment section. Look for a featured recipe next week. Feel free to link up as many recipes as you'd like, all I ask is that you link back to What's Cooking Thursday!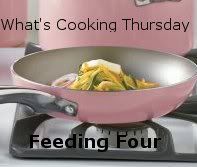 I really need to set a timer or something so I know that it's Wednesday night and I need to get this posted. :(
I've been working on recipes that will get the most out of my ingredients. And I want to use up what I have. The other night, I had some leftover veggies and some leftover turkey. Plus I have a gazillion cream of soups. I added in some stuffing and had a wonderful filling meal for dinner.
1 cup leftover turkey or chicken
2 cups leftover veggies (chopped)
2 cans cream of chicken soup
1 box of stuffing mix
Prepare stuffing as directed on package. Meanwhile, combine other ingredients in a casserole dish. Spread prepared stuffing overtop. Bake at 400 degrees for 30 minutes. Serve!
{Skinny Smashed Potatoes}