Welcome to What's Cooking Thursday! A place for you to link up whatever it is you've been cooking at your house! Not a blogger? Leave your recipe in the comment section. Look for a featured recipe next week. Feel free to link up as many recipes as you'd like, all I ask is that you link back to What's Cooking Thursday!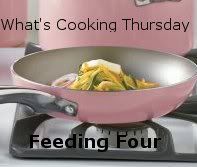 I love chicken and pasta and enchiladas. So when I saw this recipe on the Santa Fe Cooking Creme, I knew I had to try it. It was a hit! Everyone loved it. Hubby ate it with tortilla chips which was as good as eating it "plain".
You'll need :
1 lb chicken
1 bag frozen corn
1 can diced tomatoes
1 container Kraft Santa Fe Cooking Creme
1/2 box pasta - bowties, penne, whatever :)
8 oz shredded cheese
Cook chicken in skillet. Meanwhile, boil pasta. When done, set aside. When chicken is thoroughly cooked, add tomatoes, corn and cooking creme; simmer for 3 min. Add pasta and 1/2 cup shredded cheese, stir to coat. Top with remaining shredded cheese. Remove from heat. Cover & let stand until cheese is melted. Serve.
{linked to
Tasty Thursday
}
{{Worm Cupcakes}}