Welcome to What's Cooking Thursday! A place for you to link up whatever it is you've been cooking at your house! Not a blogger? Leave your recipe in the comment section. Look for a featured recipe next week. Feel free to link up as many recipes as you'd like, all I ask is that you link back to What's Cooking Thursday!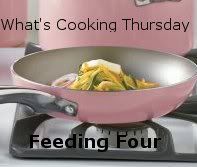 Yesterday was my best friends birthday. I wanted to make her a cake, but I didn't want the same old thing. I've seen cake pops around the blogosphere and decided to give them a shot. They were relatively easy and oh so good. I don't even like cake but these cake balls are the best.
Prepare cake according to the package directions. Bake in a 9 x 13-inch pan. Allow to cool completely. Once the cake has cooled, place sections of the cake into a large bowl and crumble with your hands or a fork. When you're finished, you should have very fine cake crumbs. Next, work the can of icing into the cake crumbs. (Use 3/4 can of icing for firmer cake balls.) Then, roll the mixture into balls. I used my cookie scoop. Throw your cake balls into the freezer until firm, so they don't crumble when you coat them in chocolate. Melt the chocolate according the package directions.
Insert a lolli pop stick into each ball. Dip into chocolate until the ball is covered.Place them back down onto waxed or parchment paper until the chocolate has set. Decorate and enjoy!