Welcome to What's Cooking Thursday! A place for you to link up whatever it is you've been cooking at your house! Not a blogger? Leave your recipe in the comment section. Look for a featured recipe next week. Feel free to link up as many recipes as you'd like, all I ask is that you link back to What's Cooking Thursday!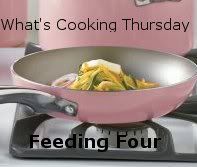 I've been wanting to try some new recipes and use my slowcooker. I had some beef stew meat in the freezer that I had no clue what to do with. I found
this
recipe on the kraft website and decided to try it out. I have to be honest. It wasn't a winner for our family. C and I loved it, hubby didn't and A wouldn't touch it. He actually doesn't touch much these days though.
2 lb.
beef stew meat, cubed
1 can cream of mushroom soup
Place meat, mushroom soup, onion and garlic in slow cooker. Add broth & paprika.. Cook on LOW 6 to 8 hours.
Mix sour cream and flour in slow cooker. Cook, covered, on low 15 min. Cook noodles as directed on package.
Drain noodles; place in large serving bowl. Add meat mixture; mix lightly. Serve.