Welcome to What's Cooking Thursday! A place for you to link up whatever it is you've been cooking at your house! Not a blogger? Leave your recipe in the comment section. Look for a featured recipe next week. Feel free to link up as many recipes as you'd like, all I ask is that you link back to What's Cooking Thursday!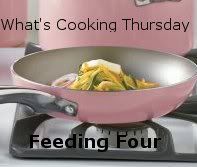 I have been wanting soft pretzels for a long time. but the ones from the mall make my stomach hurt with all their butter/grease. Stuck inside on a very cold day with two very active little boys I decided to make some. I am so glad we did. Not only did they turn out amazing, but we had SO MUCH FUN making them! We made letters, shapes and bites. C said to me the next day "mom, remember when we made the pretzel mini bites? That was a lot of fun! We should do it again" It will definitely be done again soon. Hubby, who doesn't like soft pretzels, ate some.
1 1/2 cups warm water
2 tbsp brown sugar
1 package active dry yeast (2 1/4 tsp)
6 tbsp unsalted butter, melted
2 tsp salt
4 1/2 to 5 cups all-purpose flour
3 quarts water
3/4 cup baking soda
1 whole egg, beaten with 1 tbsp cold water
Coarse sea salt
Mix 1 1/2 cups water, sugar, yeast, and butter together. Let sit for 5 minutes. Add salt and flour and mix. Knead until the dough is smooth and begins to pull away from the side of the bowl. Cover and let sit until the dough doubles in size, about 1 hour. Preheat the oven to 425 degrees F. Bring the remaining water to a boil and add the baking soda. Remove the dough from the bowl and place on a flat surface. Divide the dough into 8 equal pieces. Roll each piece into a long rope and cut into 1 inch "bites". Boil the pretzel bites in the water solution in batches, 10 - 15 bites at a time. Boil for 30 seconds for each batch. Remove bites with a large slotted spoon. Place pretzel bites on a paper towel to drain, and transfer to a greased baking sheet. Brush the tops with the egg wash and season liberally with salt.Bake for 16 minutes until golden brown. Serve with cheese sauce or mustard or eat plain.