Welcome to What's Cooking Thursday! A place for you to link up whatever it is you've been cooking at your house! Not a blogger? Leave your recipe in the comment section. Look for a featured recipe next week. Feel free to link up as many recipes as you'd like, all I ask is that you link back to What's Cooking Thursday!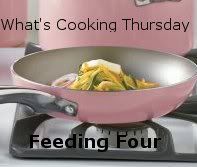 I really have not been cooking new recipes at all. We've been using up meals in the freezer, having simple meals. I fixed the boys pizza pinwheels the other day for lunch so that's the new recipe you get. :)
3/4
teaspoon garlic salt
1
teaspoon dried basil
1 1/2
cups shredded mozzarella cheese
1/2
cup chopped pepperoni
Roll out pizza dough into large rectangle. Sprinkle dough with garlic salt, basil, cheese and pepperoni. Roll dough up tightly to form a log. Slice into 1-inch pieces. Place rolls on lightly greased baking sheet. Bake at 425 degrees for 8-10 minutes or until golden brown. Serve with warm pizza sauce.