Welcome to What's Cooking Thursday! A place for you to link up whatever it is you've been cooking at your house! Not a blogger? Leave your recipe in the comment section. Look for a featured recipe next week. Feel free to link up as many recipes as you'd like, all I ask is that you link back to What's Cooking Thursday!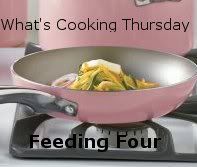 I was supposed to share the chicken corn blu chowder but once we tried the chicken taco soup, I knew I had to share it this week. It is so good, even A ate it! I served it with tortilla chips - it would be a perfect dip/dinner for the Superbowl.
you'll need:
1/2 onion, diced
16 oz jar salsa
16 oz chicken stock
1 can of corn, drained
3 oz tomato paste
1/2 tsp cumin
1 lb chicken breasts, cooked/chopped
10 oz cream cheese - I used Kraft Cooking Creme original
In your crock pot, combine all ingredients except cream cheese. Cook on low for 6-8 hours. Half an hour before serving, stir in sour cream. Serve with shredded cheddar cheese and tortilla chips.